A Little Big Home
Posted by Roy Sanborn on Monday, February 10, 2020 at 5:11 PM
By Roy Sanborn / February 10, 2020
Comment
A Little Big Home
There were 383 single family homes on the market as of February 1, 2020 in the fourteen Lakes Region communities covered by this report. The average asking price stood at $635,000 and the median price point was $349,900. This inventory level represents only a 3.1-month supply of homes on the market which is very low. With fewer homes available buyers must act quickly as they tend to sell faster which can be very frustrating. It also makes it hard for potential sellers who don't want to list their homes because they don't know if they can find a new one that fits their needs.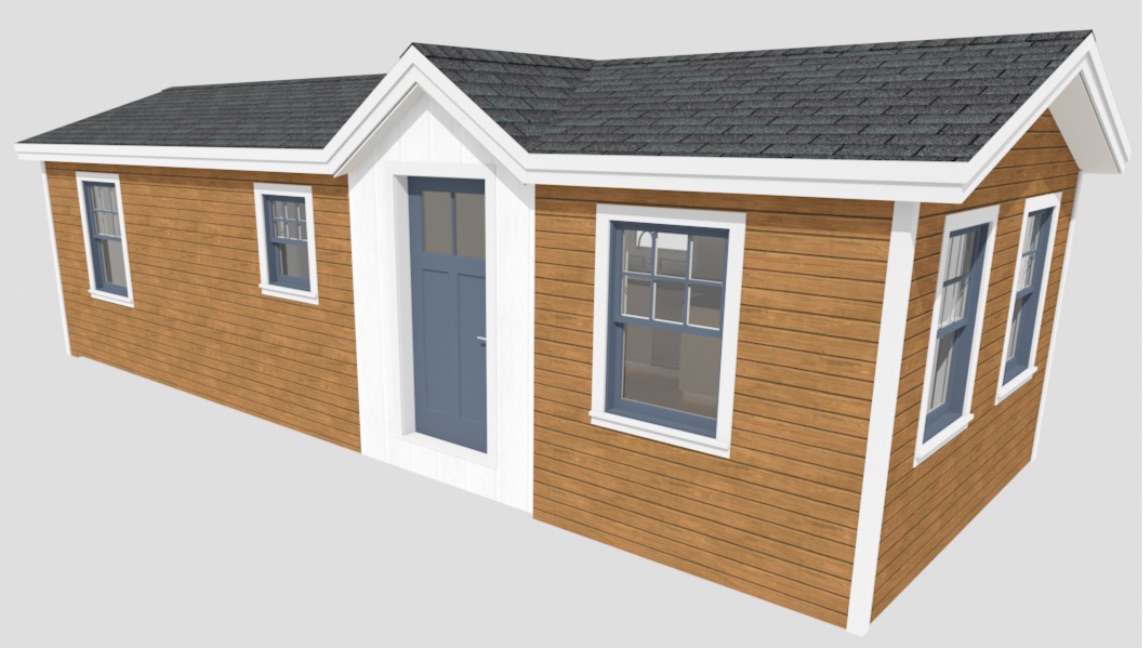 There will be one home coming on the market later this year that may be of interest to a lot of people. Last week's Lakes Region Builders and Remodelers Association's monthly meeting was held at the Huot Technical Center at the Laconia High School in order for the students to show members their new "build project." You may have heard of some of their past projects which included bob houses and more recently the tiny home projects that were on wheels. This year they have graduated up to a small home built in their shop that can be moved and put onto some lucky buyer's foundation.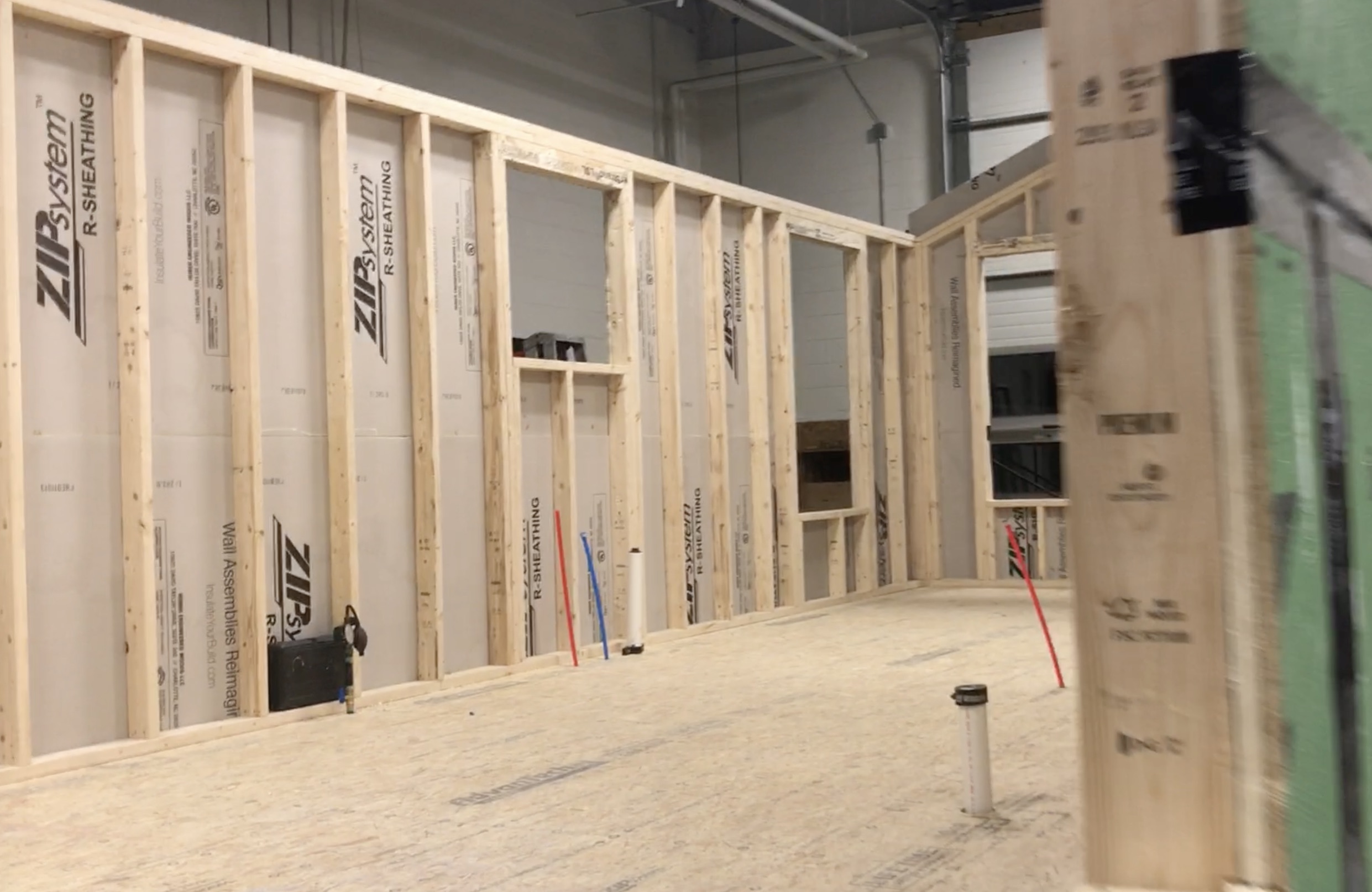 Each year the Lakes Region Builders and Remodelers Association partner with the Huot Technical Center on a project as part of its Workforce Development program. The goal is to encourage young people to get into the building trades which is in dire need of younger talent to take over for what is now an aging workforce. Through this program students get hands on experience and exposure to what can be a rewarding and lucrative career path and a very viable alternative to the high cost of college education. A number of the students attended the meeting and introduced themselves. Many of these young guys and gals (yes, there are girls in the construction classes!) stated they wanted to continue on with their trade after graduation. That's pretty amazing. But you know, if you have hired a plumber lately you know what these guys can make! Encourage kids you know to look at the trades!
The LRBRA members make these builds possible with donations of time, money and materials. From time to time the school has an "All Day Build" and members of the Lakes Region Builders Association will come in and work with the students. The students and builders get to know each other through the process. Some past graduates from The Huot Technical Center have found employment with member firms of the LRBRA.
We were all excited to see the build, but first we got a chance to have a nice meal prepared by the tech school's culinary students under the supervision of the Culinary Arts teacher, Jack Aldrich. They put on a great spread complete with hors d'oeuvres, buffet, and deserts. The students did a fantastic job. Jack gave a brief overview of the culinary program which is designed to prepare students for an immediate career in the food industry upon graduation or be able to advance their skills further by attending a Culinary Arts School. With the number of restaurants in the area clamoring for help this seems like a pretty good career choice for many of the students. The tech center is doing some really great things!
After the meal, we went to the school's shop to check out the build. This year, students from the Building Construction class and the Plumbing/Heating and HVAC class supervised by Ben Schneeweiss and Mike Schofield respectively have taken on a much larger project. This build is a very high quality 32' x 12', 384 square foot, one bedroom one bath home with a fully appliance kitchen, a vaulted ceiling, and radiant in-floor heat. It will have spray foam insulation, Pella windows and doors, and energy efficient lighting so utility costs will be very low. The interior will be nickel gap poplar paneling on the walls, prefinished planks on the ceiling, and white oak stained floors. The exterior will be prefinished lap siding and architectural shingles.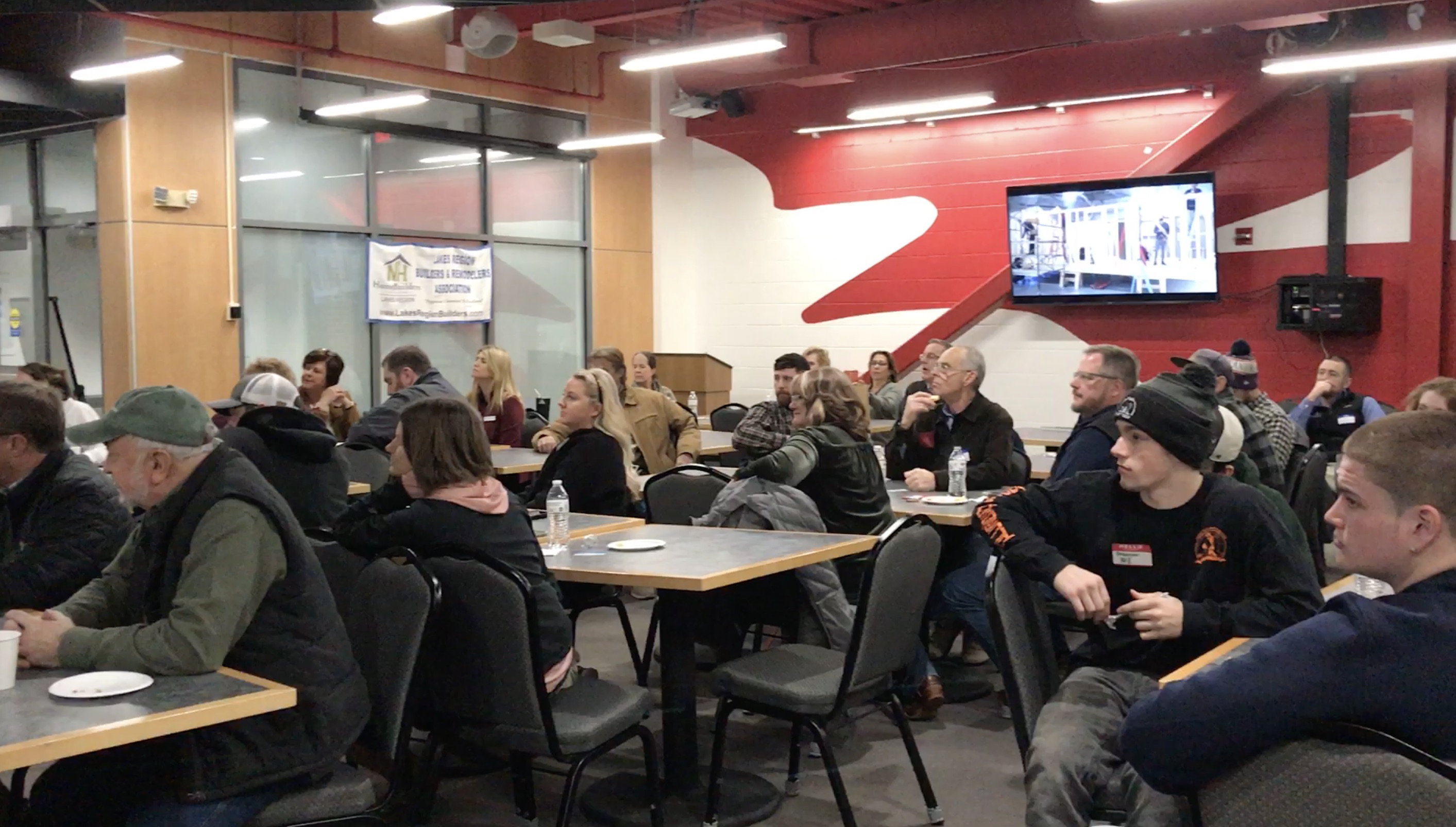 Now, you might think that 384' square feet of living space is not very big, but this home is big on quality and value and is designed for future expansion possibilities. It will make a good starter home, guest house, a perfect get-a-away camp, accessory dwelling, or small office. Obviously, the buyer will need a place to put it and be responsible for the sitework, foundation, and all utilities. But what a great start! And, all the net proceeds of the sale go back into the Workforce Development Program to benefit the next generation of tradesmen in the area!
Should you be interested in plunking this great little home down on your lot please contact the Lakes Region Builders at 387-1817 or email us at [email protected]. Start the conversation now and get more information to see if this would be a good fit for you!
Data compiled using the NEREN MLS system.