Escape to Real Estate Movies
Posted by Roy Sanborn on Tuesday, April 28, 2020 at 11:25 AM
By Roy Sanborn / April 28, 2020
Comment
Escape to Real Estate Movies
There were 85 single family homes sold in March in the fourteen Lakes Region communities covered by this report. The average sales price came in at $398,340 with a median price point of $286,500. For comparison sake, last March there were 97 homes sold at an average price of $325,920. I expect that many of the properties that sold last month went under agreement well before the Covid crisis became so serious, so the lesser number of sales really isn't that significant. I do expect the coming months sales numbers could be impacted dramatically.
If you are stuck at home during these trying times you probably have watched a lot of TV. I could only take watching Governor Cuomo's press conferences for about 10 minutes at the most. I got tired quickly of hearing about ventilators day after day. The afternoon task force briefings were good for a little while and they would be better still if they only lasted just a little while. You can only take so much Covid news.
If you are a house junkie you have probably binged on all of the HGTV shows such as Property Brothers, Home Town, Love it or List it, House Hunters, etc, etc, etc until you screamed. And, if you are like me, you have watched the American Pickers roam freely around the country with a tear in your eye longing for the good old days. And alas, it seems I have seen every one of their shows.
It is time to kick back and watch some movies. Here are some recommended real estate movies to take your mind off the virus and remind you of how bad things really could be. Afterall, you are as snug as a bug in your living room, right? You may have already seen these, but they are always worth a second look…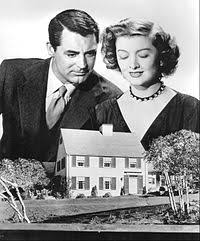 1. Mr. Blandins Buys His Dream House from 1948. This movie stars Cary Grant and Myrna Loy which guarantees that it is a good flick. This is a story about a New York advertising executive, his wife, and two kids that move to the country in Connecticut. They buy a 200-year-old home on 35 acres of land to fix up. They end up paying five times what the locals would have paid for the same acreage. On top of that, they find out that the house needs more work at a far greater expense than anticipated so they decide to tear it down and build a new one. This leads to a long list of setbacks, construction problems, and rising expenses that, just like in real life, lead to marital disputes. This is a must see movie for anyone considering building their own home!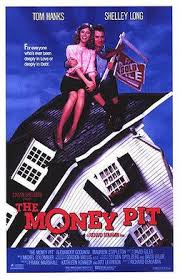 2. The Money Pit from 1986. This comedy has Tom Hanks as Walter, a young attorney, and Shelley Long as his girlfriend. It is the updated remake of Mr. Blandins Buys his Dream House. This time the young couple must vacate their Manhattan apartment because her ex-husband, who actually owns the apartment, returns unexpectedly. They have to find a house in a hurry but they can't find anything. Luckily, through a friend, who is an unscrupulous real agent (nah, can't be!) tells them about a million-dollar mansion out in the country that they can buy at the fire sale price of $200,000. The movie title tells you where this all is headed…and it ain't good!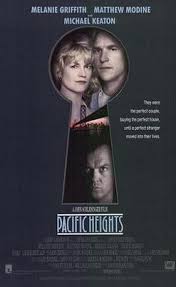 3. Pacific Heights from 1990. If you are thinking about being a landlord this is a movie you should watch. A definite "must-see!" It stars Matthew Modine as Drake and Melanie Griffin as Patty who are a young couple that buy a very expensive three family in San Francisco as an investment. They occupy one of the first-floor apartments and rent the other to a Japanese couple. A guy named Carter Hayes, played by Michael Keaton, shows up to look at the remaining unit. He wants to rent the apartment but does not want Drake and Patty to do a credit check. Instead, he offers to give a long list of references and six months' rent up front by wire transfer. He is driving a Porsche and flashing a lot of cash so what could go wrong, right? He moves in before the wire transfer arrives and barricades himself in the apartment. Needless to say, the wire never comes. Loud sounds of sawing, drilling, and hammering come from his apartment all hours of day and night, but Carter rarely will open the door. Drake tries to get him to leave by shutting off the electricity and heat to the apartment, but Hayes calls the cops and they reprimand Drake. Drake tries to get him evicted but finds the law is on the tenant's side. Hayes then infests the building with cock roaches and that drives the Japanese couple out! The situation devolves into a scary, bloody nightmare. I don't want to ruin the rest of the show for you, but you'll opt out of that multi-family.
There are plenty of other great movies to choose from like the star studded and widely acclaimed 1992 drama Glenngary Glen Ross which about high pressure real estate salesmen, the comedy I Love You Man from 2009 which about a real estate agent who is selling Lou Ferrigno's (the Incredible Hulk) house in L.A., and 2015's The Big Short which is about the 2008 housing crash (you know, that last crisis we went through?) and the financial events that led up to it.
Stay safe and watch movies…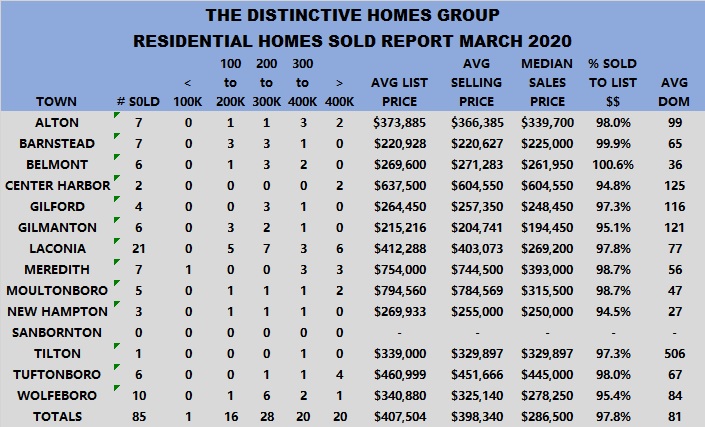 Data compiled using the NEREN MLS system