The 2019 Year End Winnipesaukee and Winnisquam Waterfront Sales Report
Posted by Roy Sanborn on Thursday, January 16, 2020 at 10:43 AM
By Roy Sanborn / January 16, 2020
Comment
The 2019 Year End Winnipesaukee and Winnisquam Waterfront Sales Report
There were nine waterfront homes sold on Lake Winnipesaukee in December of 2019 with an average price of $1,414,866 and a median price point of $1.3 million. That is up slightly from the seven sales in December of 2018.

Last month's transactions bring us to a total of 141 sales on the lake in 2019 which is 10% off from the 157 sales posted in 2018. The average sales price for 2019 came in at $1,386,965 (which is up from $1,170,094 in 2018) and the median price point for the year was $1,117,000.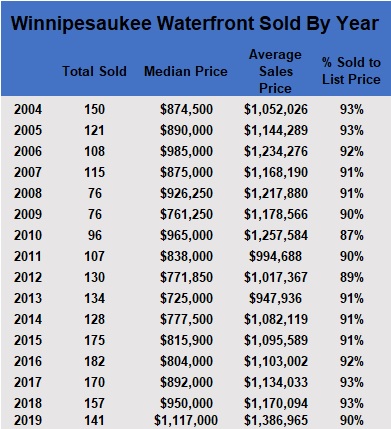 The total sales volume for the year was $195,562,099 which is up from $183,704,759 in 2018 and even above 2017 when the tally came in at $192,785,704. The three highest sales for the year were; 142 and 144 Hopewell Rd in Alton at $5.3 million and $5.6 million respectively and 144 Springfield Point in Wolfeboro at $7.75 million.
The bulk of the waterfront sales in 2019 were under $1 million but there was a 5% increase in the number of sales over $2 million compared to 2018.

Even with a dozen fewer sales than last 2018, Moultonborough still has the most sales on the lake with 54 transactions. Gilford saw an increase in sales from 18 in 2018 to 24 in 2019. Center Harbor had the highest average sale… if you can call only one sale an average! Wolfeboro was the only other town to have an average sales price over the $2 million mark at $2.16 million.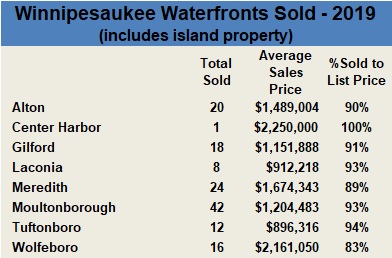 There was one sale in December on Lake Winnisquam. That brings the total number of sales on the lake for 2019 to twenty-seven at an average price of $656,585. Sales on Lake Winnisquam have been strong with more and more buyers finding it a more affordable alternative to the big lake!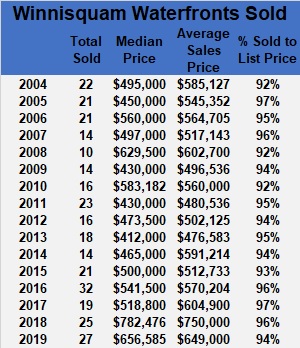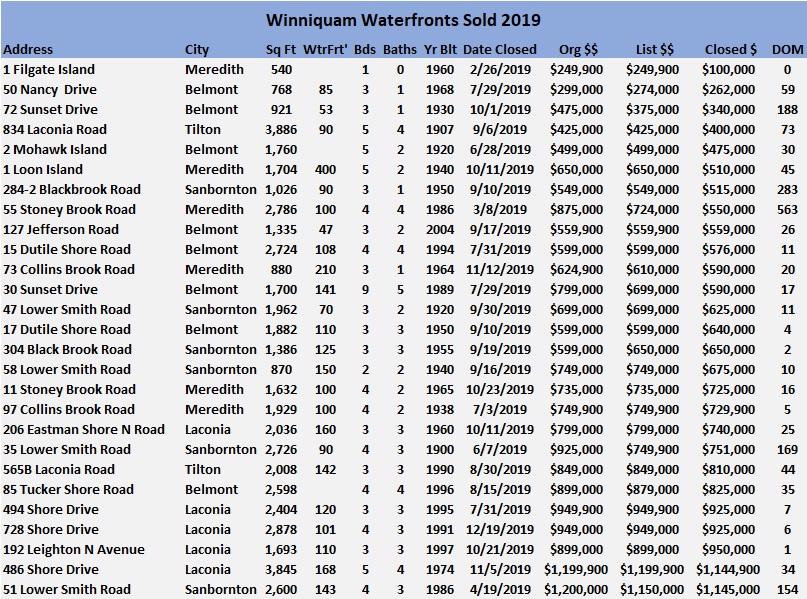 Data compiled using the NEREN MLS system